10 March 2020
Banner Jones Solicitors raises £1,200 for John Eastwood Hospice in Mansfield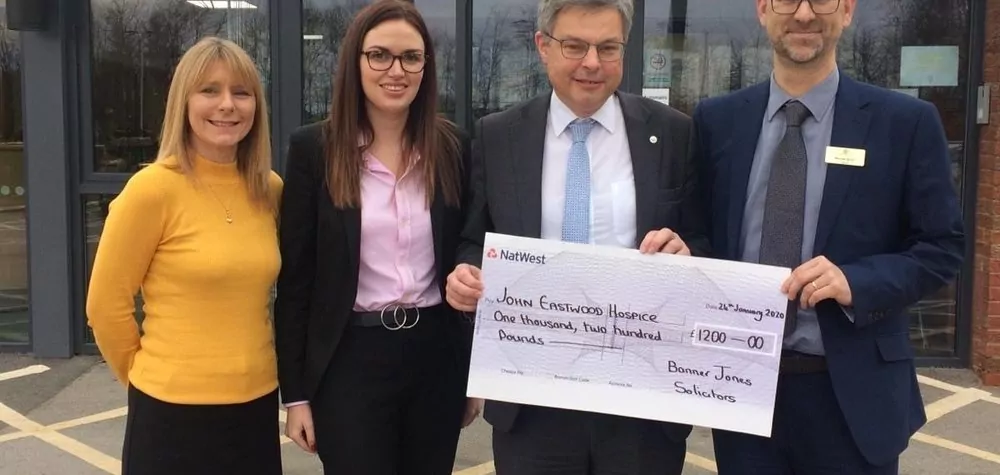 Award winning law firm Banner Jones has raised £1,200 for John Eastwood Hospice after their Mansfield-based team ran a charity Wills month on their behalf.
Running for the 4th year in a row, as part of the John Eastwood Hospice Free Wills Month, the team offered members of the public the opportunity to have their will written or updated, free of charge, in return for a donation to the charity.
The funds raised will help John Eastwood Hospice – an independent registered charity – continue its work in providing vital palliative care services to patients for free to those with life-limiting illnesses across Nottinghamshire.
The charity relies on the generosity of the local community and its team of volunteers.
This donation comes amidst of the firm's next upcoming charity Free Wills Month which is expected to run throughout February in support of Helens Trust a Derbyshire-based charity which helps terminally ill people spend the rest of their life in their own home.
Katie Woodard, Wills Team Leader at Banner Jones Solicitors commented: "We work closely with John Eastwood Hospice throughout the year and I'm so pleased that the work we do on a daily basis has helped raise money for such a valuable cause.
"We would like to thank all those who have donated and taken the time to let our dedicated team guide them through the Will writing process."
Martyn Knox, Chair of Trustees at John Eastwood Hospice said: "At John Eastwood Hospice we support people with advanced or progressive diseases such as cancer, motor-neurone disease or other long-term conditions to help improve and maximise the quality of the lives of our patients and their families.
"We are always so grateful for Banner Jones' support and our ongoing relationship with the team."
Banner Jones Solicitors is an award-winning law firm with offices in Chesterfield, Sheffield, Mansfield, Dronfield and Nottingham.