Property Matters
Believe it or not the way you own your property is very important if you want to leave a share of it to somebody in your Will.
For example:
Owning as "Joint Tenants"
This way, neither of you owns an identifiable share of the property. You collectively own the whole thing - essentially you hold it on trust for yourselves. This means that when one of you dies, the property automatically passes to the survivor(s). It does not matter whether or not the deceased co-owner had a Will.
Owning as "Tenants in Common"
By owning this way, you each own an identifiable share of the property. Unless you have stated otherwise, this will be 50% each for 2 owners or one third each for 3 owners etc. You are each free to use your share in any way you want. You can give it away during your lifetime, or can leave it to someone under your Will. Owning as Tenants in Common, the property will not automatically pass to the surviving owner(s) so it is vital that you each have a Will.
Why Is It Important To Own The Right Way?
You MUST own the property as Tenants in Common if you want to:-
Give your share to someone else
Leave your share under your Will
Put your share into trust for someone else's benefit
Engage in any inheritance tax planning
Plan for future care fees
Have extra flexibility in dealing with your assets
If you don't know how your current property is owned, the chances are you own as joint tenants. However, we can easily check this for you. All we need is to see your title deeds.
It is very simple to change from joint tenants to tenants in common. We would be happy to prepare the necessary paperwork and register the change at HM Land Registry on your behalf.
If you are Tenants in Common already and want to change the share of the property that you each own, this can be done easily and we can provide an estimate of cost for you.
Equity Release Schemes
There are various schemes which allow you to release some of the value ("equity") that is locked into your home. To find out more click here.
For more information, or to arrange an appointment with an expert, call 0330 017 6302* or email info@bannerjones.co.uk.
*calls cost no more than a local 01 number and are included in your mobile minutes.
Frequently Asked Questions
Worried About Care Home Fees?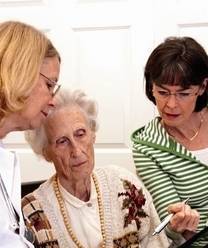 Worried about how you'll pay for Care Home fees?
Do Not sell your home before speaking to us first.
97% of our clients would recommend us to a friend
(Ongoing Client Survey)
I received excellent service for the purchase of my house
Mrs S,Sheffield
The service I received was excellent.
Mrs B, Dronfield
The receptionist staff on both days we visited your office were extremely friendly and the whole experience of dealing with Banner Jones was wonderful
T Howard
The service I received couldn't have been better!
Mrs C, Chesterfield
We're really grateful for the work you did for us. 10 out of 10!
Mr & Mrs S, Bridlington
Service provided was excellent. All the staff were very helpful, considerate and professional. I would highly recommend to friends and family.
Mr W, Nottinghamshire
Thanks so much to you and Jayne for all your help and hand holding - it has been very much appreciated!
Ms W, Sheffield
I wanted to write to thank you personally for your support in resolving this matter and equally to commend Ian's continued effort and patience over the last year. He has been a great professional and taken a personal interest in expediting the process where possible to bring to the earliest conclusion.
Mr P, London
Once again, thank you so much for all your help and updates - it's made life so much easier.
Mr A, Essex
Thank you again for all of your help over the past few months, it has been invaluable.
Mr C, Sheffield