10 December 2019
Banner Jones Solicitors recognised for commitment to staff development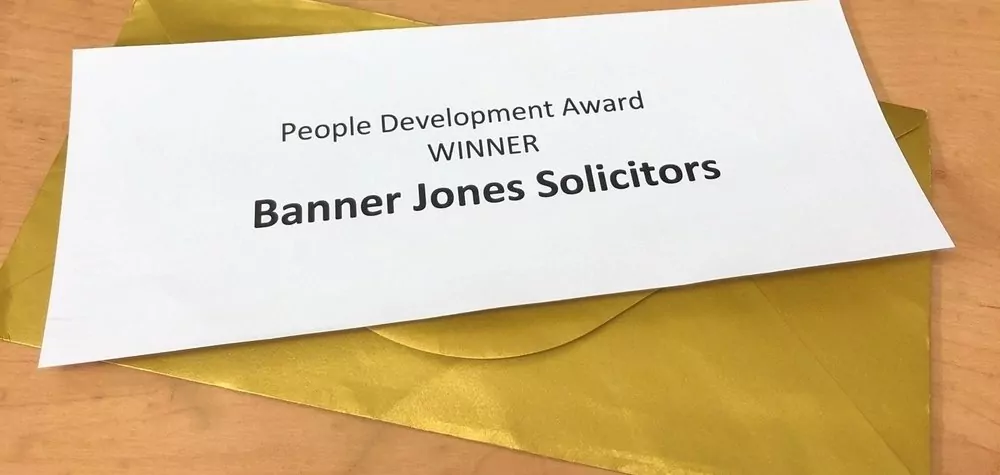 Banner Jones Solicitors was awarded the Peoples Development Award 2019 at this year's Derbyshire Times Business Excellence Awards in recognition of its commitment and investment in its employees.

Celebrating the firm's approach to its staff's wellbeing and career progression, the judges also awarded the trophy in recognition of its training and development initiatives, and its commitment to developing both performance and confidence.

Lisa Gill, Human Resources Manager at Banner Jones commented: "Banner Jones' company ethos is simple – we employ friendly, approachable and technically astute staff who focus on helping us provide the very best services to our clients.

"In return we understand the importance in presenting every team member with clear goals and objectives, a clear progression path and ultimately job satisfaction to ensure we retain our staff and create the right working environment for everyone not just in our Derbyshire offices but across Nottinghamshire and South Yorkshire too."

In November the firm cemented its commitment to the professional and personal wellbeing of its growing team with the appointment of Performance and Wellbeing Coach Katie Newton, who has joined the firm to provide staff members with tailored one-to-one sessions in response to their needs.

Holly Fellowes added: "Since I began my career at Banner Jones in 2012, I have received an overwhelming amount of support from the HR team and my line manager. I have felt empowered throughout my training and have in 7 years progressed from the role of Administration Assistant to a Property Executive with a Graduate Legal Executive qualification."

"This accolade is truly deserved."