First Time Buyers
We know that being a first-time home buyer can be an exciting yet overwhelming experience. Banner Jones has helped thousands with the legal process of buying their first home.
For a free, no obligation quotation backed by our hassle-free and uncomplicated service complete the form to the right or call us on 0330 017 6309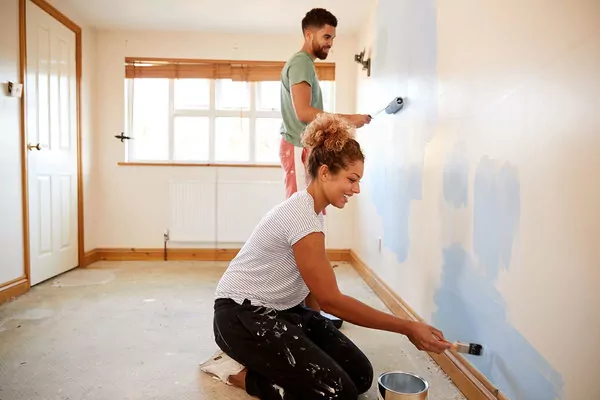 First Time Buyers in Chesterfield, Sheffield, Dronfield and Mansfield
The process of buying a house
Buying and Selling Houses
Download our free guide covering everything you need to know about the process of buying or selling a residential property.
Download now
We're here to make conveyancing simple because buying your first-home is complicated enough.
We know there are so many things you need to consider when choosing a new property. Everything from saving for your 10% deposit, finding the right mortgage provider, choosing a removals company, the list goes on. At Banner Jones, we know what our customers go through and our expert team are available to help in any way we can.


Why choose Banner Jones conveyancing to buy your first home?
At Banner Jones, we want to make the conveyancing process as easy as possible. For more information speak to our friendly residential conveyancing team, who are specialists in helping first-time buyers getting their foot on the property ladder.
We are experts in the various Government Help to Buy schemes
We are on most of the mortgage lender panels and are familiar with their requirements
Gifted deposits. It is very common for first time buyers to have some financial help from family members. We are very experienced in dealing with gifted deposits and have all of the forms ready for the giftor from the outset
Our conveyancing costs are fixed and are competitive.
There are no hidden fees. Everything is explained up-front and jargon-free.
You will get the dedicated support of a friendly and highly experienced conveyancing solicitor.
You will receive regular updates and you don't even need to visit the office. Everything can be dealt with by phone and email.
As a leading 'UK Legal 500' Law Firm and accredited by the Law Society's Conveyancing Quality Scheme (CQS), you can rest assured that Banner Jones can help.
Advice for first-time buyers
Your Mortgage
It is highly recommended that you make enquiries with potential mortgage lenders, whether that is a bank or a building society, before considering purchasing your first home. This step will see if you can qualify for a mortgage and more importantly the type of property that you can afford.
Having a confirmed mortgage offer in place will allow you to make an offer your first home quickly.
Costs of buying your first home
You will need to budget for the following:
The deposit of your desired property. This is usually 10%
The conveyancing fees
Stamp duty (you are now exempt if you are buying under £425,000)
The monthly costs of the mortgage
Home insurance costs
Council tax and utility bills
Removal costs
Ongoing maintenance costs
The cost of buying any new furniture or white goods
The cost of surveyor
Buying your first home in the first instance seems expensive. However, it is a willable asset, and you will own the property.
Finding your first property
Search through property sites such as Zoopla and Rightmove. Once you've found your desired property, contact the estate agent or property owner and request a viewing.
Making an offer
When you've found your chosen property that you are interested in buying, you need to make an offer. It is best to make the offer over the telephone as nothing is in writing at this stage. Once the offer has been agreed and accepted, the estate agent will make the property "sold subject to contract". This means that the property is going through the legal buying and selling process and neither party have exchanged contracts. Technically this means that the property is still available if the buyer and seller don't exchange contracts.
Valuation Report
Your mortgage lender will conduct a valuation report. This is a reassurance policy for the lender to see whether the property is safe and viable to grant you with the funds to purchase your first home.
Surveyor Report
A chartered surveyor is like a building inspector. Their job is to assess the property and carry out numerous checks to see if there are any issues with the property. By paying for a surveyor's report, you can find any underlying issues with the property. The outcome of the surveyor's report can determine how much you pay for the property, especially if there is a lot of additional and unexcepted work required.
Although a surveyor's report is non-essential, it can be a wise decision on your part giving you peace of mind for unaccounted costs.
Home Insurance
A mortgage lender will require by law, that you have home insurance on your new property. Although mortgage lenders may offer you their own home insurance, it is recommended that you shop around. You will need a copy of your home insurance quotation when you meet the conveyancing solicitor to discuss the legal process of owning your new home.
Life Insurance
Although not a legal requirement, life insurance is certainly worth considering. Depending on your personal circumstances and especially if you have dependents, life insurance can help to pay your mortgage, if you become critically ill or die.
Buying Your First Home with Help From Family
Gifted Deposit
The most common type of parental support is a Gifted Deposit. The smallest standard deposit required to raise a mortgage is 5%, which can be several thousand pounds on even a modestly priced home. For a first-time buyer, starting from scratch and potentially already juggling rent and bills, these large deposits can be very difficult to raise by yourself. By using a Gifted Deposit a family member can provide a percentage of this deposit, or even the full amount, as a gift to you. The majority of mortgage lenders are more than happy for you to use a Gifted Deposit, though you should check with them when making your mortgage application, just to be sure. Once we have begun the legal work, we will simply have to ask the family member to complete a form to confirm they are giving you the money as a gift, and will not have any ownership over the property itself.
Family Mortgages
A relatively new product offered by some lenders is a Family Mortgage (also known at some lenders as a 'Springboard' Mortgage). These allow you to raise a 100% mortgage without any deposit at all. Under a Family Mortgage, a parent or other family member will act as a guarantor of sorts, depositing 10% of the property's purchase price into a savings account with your mortgage lender. After a period of time (usually three years) this money is then released back to them by the lender.
The family member who will be helping you with a family mortgage will usually be required to seek independent legal advice with a solicitor as part of the process, in order to discuss their role and the implications to them.
Want to know more?
For a free no-obligation conveyancing quote
At Banner Jones, we know that buying your first home is not easy. Our friendly residential property solicitors have helped countless numbers of first-time buyers with their conveyancing needs.

Call 0344 558 6802 for your free no obligation conveyancing quotation today or complete the contact form to the right.
We take data privacy very seriously, and we want you to understand and feel confident about how we collect, store and handle your personal data. If you'd like to find out more you can read our Privacy Policy.