Spinal Injuries
Spinal injuries are often the result of a serious accident or, in some cases, medical negligence. Either way, the effects of a spinal injury are life-altering and not only affect you, but everyone around you.
Often you, or your loved one, will need to pay for appropriate healthcare and rehabilitation and also lifestyle modifications, such as disabled access to a home or car. This can become very costly, and that's why at Banner Jones we are dedicated to ensuring we maximise the compensation you need and deserve.
If you or a relative have suffered a spinal injury, Banner Jones can provide you with comprehensive advice and legal assistance to make a claim for compensation. Our medical and disability experts understand the importance of support through this terrible time and we've had experience in many spinal injury cases.
Talk to our team today on:
0330 017 6309

Simon Wright
Head of Personal Injury
Banner Jones Personal Injury Reviews
4.5
out of 5 based on
32
ratings
Frequently Asked Questions
Did You Know?
Did you know that if you're not happy with the way your case is being handled by your current solicitor, you can change at no cost to you? Serious injury claims need to be dealt with by Solicitors who really understand the complexity of the injuries and can therefore really help you maximise your compensation. If you're not sure how to go about changing solicitor, just ask and we'll talk you through it.
Why Choose Us?
Banner Jones is highly experienced in handling claims from serious accidents. Some notable examples include the Hatfield Rail Crash, the Manchester Air Crash and Zeebrugge Ferry Disaster. In such serious cases, getting an experienced serious injury solicitor on your side is critical to help you maximise the amount of compensation you deserve which will help you to secure your future.
Banner Jones has been ranked as Leading Firm in the UK Legal 500 for the last 7 years for their work in Personal Injury Claims. Here is what the Legal 500 say:
Banner Jones Solicitors is 'a very well-organised' niche PI firm, which handles claims of any size and type. Simon Wright is 'very astute'; Robert Banner 'exudes calm and experience'
With our 'No win no fee' approach and our track record of winning 95% of compensation claims, you can feel confident that you've got nothing to lose with Banner Jones.
Our team of serious injury solicitors are also happy to provide home/hospital visits if you are unable to make it to our dedicated Accident Claims Centre in Chesterfield or to our Mansfield and Sheffield offices. Let Banner Jones help you today. Call us today on 0330 017 6303* for a free no obligation chat about your situation or simply drop us an email at claims@bannerjones.co.uk.
*calls cost no more than a local 01 number and are included in your mobile minutes.
Visit Us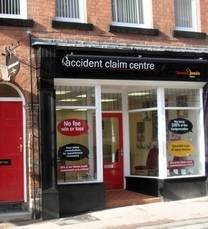 Why not drop in to our dedicated Accident Claim Centre on Glumangate in Chesterfield? You'll get a free, initial consultation and it's no appointment necessary. Additionally, we work on a no win, no fee basis.
Alternatively, if our Sheffield or Mansfield offices are more convenient and you would like to see whether you have a claim, contact our expert Personal Injury solicitors for a no obligation chat on 0330 017 6303* or email claims@bannerjones.co.uk.
*calls cost no more than a local 01 number and are included in your mobile minutes.
97% of our clients would recommend us to a friend
(Ongoing Client Survey)
I was involved in an accident and my insurance company thought they had achieved the world for me by getting an offer of 50/50. This offer would mean not only would I get 50% of the damage done to my car, but would also lose my no claims bonus. I went to Banner Jones with all the paperwork and just a few weeks later I was banking a cheque for the full amount of damages and had my no claims discount. Great Service!
Mr B, Chesterfield
I am very grateful for all your efforts and a very satisfactory result. I cannot thank you enough for a first class service and I will happily recommend you to my friends and family.
Mr W, Nottingham
We are very satisfied with Banner Jones. May I also say the receptionists and secretaries were very kind and helpful.
Mr & Mrs W, Chesterfield
I can not fault Mr Banner in any way for the work he did for me. He was friendly and professional and he managed the case to my benefit. Thank you.
Anonymous
Talk to our friendly team today on: 0330 017 6309

Simon Wright
Head of Personal Injury