07 January 2022
Banner Jones signs Menopause Workplace Pledge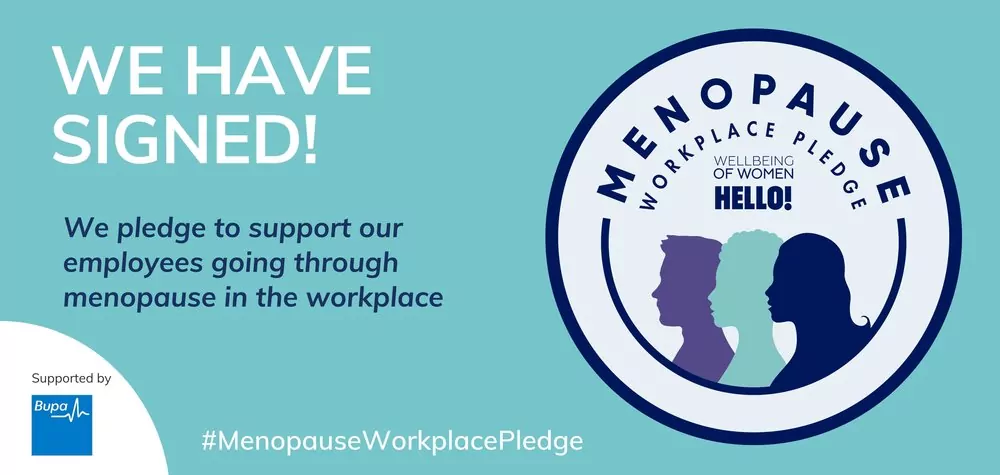 Banner Jones has furthered demonstrated its commitment to the health and wellbeing of its staff by signing the Menopause Workplace Pledge.
Created by the charity Wellbeing of Women in partnership with Hello! Magazine, and sponsored by Bupa, around 300 organisations have added their signatures to date, including large businesses such as Sainsbury's, Tesco, BMW Group, Channel 4 and First Direct.
By signing the pledge, Banner Jones has committed to recognising that the menopause can be an issue in the workplace and that women need support; to talking openly, positively, and respectfully about menopause; and to actively supporting and informing employees affected by the menopause.
This is the latest in a series of wellbeing initiatives introduced by the law firm, which also signed the 'Dying to Work' charter in 2018, showing commitment to protect employees with a terminal diagnosis.
Lisa Gill, Human Resources Manager at Banner Jones, said: "The continued health and wellbeing of our staff has always been of real importance at Banner Jones, but it has become even more of a focus over the last year or so during Covid-19.
"We have an open-door policy in place, and we encourage our team members to come to us with any concerns that are affecting them in the workplace so that we can best support them.
"This pledge is a further commitment to that, and to putting our staff at the heart of every decision we make in order to provide a positive workspace for everyone."
According to Wellbeing of Women reports that around 900,000 women have left their jobs because of menopausal symptoms, and a further 25% have considered resigning from their roles.
Katie Ash, head of employment law at Banner Jones, says that in addition to the firm's own commitment to the pledge, her team has also seen an increase in the number of enquiries from businesses wanting to put policies in place to support staff experiencing menopause symptoms.
She said: "The mental and physical health and wellbeing of staff is a very important issue, and one that has truly taken centre stage since the start of the pandemic almost two years ago. Thankfully, like Banner Jones, most employers are taking a very proactive approach to updating practices and policies.
"As part of this, many businesses are now looking to ensure that they retain their best staff by better accommodating their needs during key life changes– be that having children, losing a loved one, or experiencing symptoms linked to the menopause.
"In doing so they are likely to also improve productivity and facilitate a far more diverse workforce."
Banner Jones Solicitors is an award-winning law firm with offices in Chesterfield, Sheffield, Mansfield, Dronfield and Nottingham.