Children
At Banner Jones we provide expert advice on how to cope with a divorce if you have children.
You know your children better than anyone else and as a parent you are best placed to make the important decisions for them, but there may be times you need more advice and support regarding children and divorce.
If you have children and you are getting divorced, separating or your cohabitation is breaking up we can advise you on a wide range of issues relating to children.
As far as possible, we can help you reach an amicable agreement which is always based upon what is in the children's best interests. However, where necessary, we can apply to the courts to appropriate orders.
Our divorce and separation specialists in Chesterfield, Dronfield, Mansfield and Sheffield are here to guide you every step of the way.
Talk to our team today on:
0330 017 6309

Kelly Parks
Head of Family Law
Banner Jones Family Law Reviews
4.7
out of 5 based on
61
ratings
For some examples of common issues and problems and how we can assist you click on the link.
Tweets
HMRC are checking Furlough claims. Are you 100% certain that your business is compliant with the Furlough rules? If you are concerned that you may not be, and would like our team to check your documentation, then please get in touch before it is too late. https://t.co/j6GUr2JKgm
Follow bannerjones
Frequently Asked Questions
Watch Our Videos
Advice on Child Arrangement Orders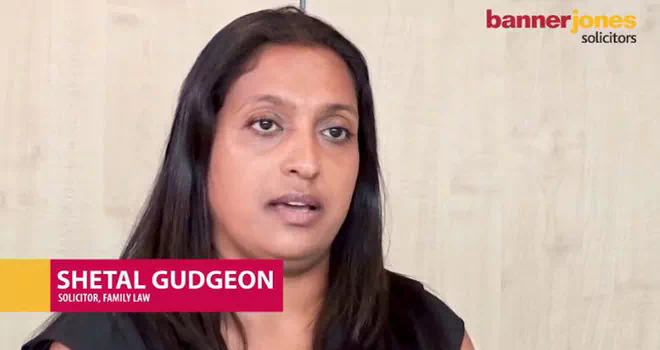 I'm worried I won't see my children, what are my rights?  What is parental responsibility?  What happens if I go to court?  What orders can the court make?
97% of our clients would recommend us to a friend
(Ongoing Client Survey)
Thankyou Helena Downing for all your excellent service.
Mr & Mrs W, Alfreton
The family department at Banner Jones have just completed the legal arrangements in respect of my divorce. The service I received was exemplary and I wanted to write to you to let you know this. I have been pretty constrained in relation to availability to meet and most of our business has been done over email which I appreciated. Responses have been very timely, updates provided regularly, deadlines hit and fees reasonable. I contrast this with the service provided by a large law firm in Sheffield in the early part of the year and your approach and that of your staff to customer services, in my view, sets your firm apart. Your firm came to me through personal recommendation by a friend and I shall be happy to do the same. Thank you again.
Mr C, Sheffield
Thanks for your assistance with my case, your advice has been invaluable, and I would certainly recommend Banner Jones to my family and friends.
Mr P Sheffield
We would like to thank our solicitor acting for us Richard, he did a great job and was very easy to speak to and very friendly. Extremely professional and we would use him again in the future.
Mr & Mrs S, Sheffield
I would like to say a big thank you for your understanding at a very stressful time. You not only acted professionally but with great compassion. My family can not say in words how difficult a time we are having, and it means so much to have just a little kindness. No matter what the outcome today, you did a wonderful job.
Mr W, Swinton
You were very helpful and sympathetic whilst dealing with my case and your knowledge and advice was excellent. Once initiated, my case was dealt with speed, professionalism. Good contact and communication was maintained throughout.
Mr G, Staveley
Peter Jones is a very good solicitor, and helped and advised me to do what was best. He does not pressure you into taking his advice.
Mrs B, Boythorpe
We're really grateful for the work you did for us. 10 out of 10!
Mr & Mrs S, Bridlington
Brilliant service, kept well informed all the way through the process. Would definitely recommend.
Miss H, Nottinghamshire
Cannot fault the service, efficient, prompt and cautious. Matters explained very well and clearly. Pleasantly surprised.
Mr & Mrs D, Mansfield
Talk to our friendly team today on: 0330 017 6309

Kelly Parks
Head of Family Law