Wills
Thinking about the unthinkable.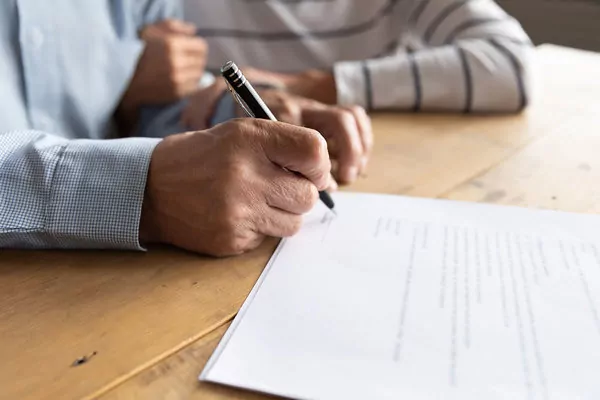 Our short questionnaire will tell you what would happen if you died without writing a Will.
Wills in Chesterfield, Sheffield, Dronfield and Mansfield
We can help with your Will
Making a Will is often seen as a daunting prospect for a lot of people, but here at Banner Jones we'll take you through it step by step ensuring that your Will represents everything you want it to. Most of our clients say it's such a relief to have finally done it and usually they have been putting it off for ages.
Making a Will is commonly associated as something you do in later life however, in reality anyone over the age of 18 can have a Will and we would strongly recommend it to anyone with children. Wills are not for just sorting out finances and property in the event of your death, you can appoint guardians for your children and even leave money to your friends or a charity. Without a Will the government decides these things for you.
There are many types of Will and our specialists in Chesterfield, Dronfield, Mansfield and Sheffield are here to help.
Dealing with a death? Find out how we can help
Why Use Banner Jones?
Register Your Will Today
Our Wills now include FREE registration with the National Will Register.
REGISTER
Solicitors are Insured
Solicitors are insured and regulated. Will writers are not. Protect your family properly.
We have offices in Chesterfield, Sheffield, Dronfield and Mansfield
Highly regarded team of qualified Will Writers
FREE secure Will storage for life
Members of 'National Will Register'
Appointments not always necessary
Quick turnaround
Home / Hospital visits available
Witnesses provided
We'll give you tax advice as part of the process
Fixed Fee Promise on all Wills
We will cover every detail leaving you able to relax
For more information about Wills, or to arrange an appointment, call 0330 017 6301* or email info@bannerjones.co.uk.
*calls cost no more than a local 01 number and are included in your mobile minutes.


Want to know more?
Common Will Questions
Can the actions of a Trustee be challenged?

If it can be shown that a trustee has breached their duty (either their legal duty or a duty pursuant to the terms of the trust) then the actions of a trustee may be subject to legal challenge. In some circumstances trustees may be removed from office by an order of the court.
Do all Trust disputes result in court proceedings?

No. Wherever possible we will seek to resolve the dispute informally by negotiation and alternative dispute resolution. The majority of trust disputes reach settlement without the need for court proceedings to be commenced. Should this approach not prove successful however, we have experience and expertise in trust litigation and court proceedings can be commenced.
How much does a trust dispute cost?

It is difficult to accurately predict the total cost of any dispute as no two disputes are the same and the costs are largely dictated by the amount of work required to bring the dispute to a final resolution. We appreciate that clients do not like uncertainty in relation to legal costs and depending on the circumstances of the case, we are able to offer a number of funding options to clients in order to suit their needs.
What are duties and powers of a Trustee?

A trustee has the legal responsibility for assets held in a trust and is required to manage the trust in accordance with the specified terms and the settlor's wishes. Trustees are subject to various duties and as part of their function, including a requirement to: -

Act with responsibility and care;
Administer/manage the trust in accordance with the trust deed;
Act fairly and impartially to all beneficiaries;
Keep detailed records to demonstrate the trust has been managed properly;
Not to personally benefit from the trust.
What options are available where an Executor/Administrator is not carrying out their role properly?

There are a number of possible outcomes such as the Executor/Administrator agreeing to stand down or be replaced, the Executor/Administrator undertaking to carry out their function going forward and even the removal or replacement of the Executor/Administrator. No two situations are the same and therefore consideration must always be given to the most favorable outcome given the specific facts of the matter.
We take data privacy very seriously, and we want you to understand and feel confident about how we collect, store and handle your personal data. If you'd like to find out more you can read our Privacy Policy.