Property Ownership
Believe it or not the way you own your property is very important if you want to leave a share of it to somebody in your Will.
For example:
Owning as "Joint Tenants"
This way, neither of you owns an identifiable share of the property. You collectively own the whole thing - essentially you hold it on trust for yourselves. This means that when one of you dies, the property automatically passes to the survivor(s). It does not matter whether or not the deceased co-owner had a Will.
Owning as "Tenants in Common"
By owning this way, you each own an identifiable share of the property. Unless you have stated otherwise, this will be 50% each for 2 owners or one third each for 3 owners etc. You are each free to use your share in any way you want. You can give it away during your lifetime, or can leave it to someone under your Will. Owning as Tenants in Common, the property will not automatically pass to the surviving owner(s) so it is vital that you each have a Will.
Why Is It Important To Own The Right Way?
You MUST own the property as Tenants in Common if you want to:-
Give your share to someone else
Leave your share under your Will
Put your share into trust for someone else's benefit
Engage in any inheritance tax planning
Plan for future care fees
Have extra flexibility in dealing with your assets
If you don't know how your current property is owned, the chances are you own as joint tenants. However, we can easily check this for you. All we need is to see your title deeds.
It is very simple to change from joint tenants to tenants in common. We would be happy to prepare the necessary paperwork and register the change at HM Land Registry on your behalf.
If you are Tenants in Common already and want to change the share of the property that you each own, this can be done easily and we can provide an estimate of cost for you.
Equity Release Schemes
There are various schemes which allow you to release some of the value ("equity") that is locked into your home. They allow you to obtain either a lump sum or a regular income or both without having to move home. There are a variety of different schemes available and you will need expert legal and financial advice if you are considering this as an option.
Equity Release schemes have earned a poor reputation in former years, but the regime is now much more regulated than it was. We would still strongly advise you to seek proper legal and financial advice before considering it.
To be eligible for any of the schemes available, you must generally speaking:-
Be aged at least 60
Own your own home
Have paid off all or almost all of any existing mortgage over the property
Own a property worth at least £40,000
Own a property built out of brick or stone
What different schemes are available?
The schemes fall under 2 broad headings: "Reversion Schemes" and "Lifetime Mortgage Schemes". Each type will have advantages and disadvantages.
Reversion Schemes
These schemes involve you selling all or part of your home to a Reversion Company. In return, you receive a lump sum or a monthly income. You and your partner can stay in the home, usually rent free, for the rest of your lives. When the property is eventually sold (usually on the 2nd death), the Reversion Company receives a % of the sale proceeds equal to the % of the property that they bought from you.
Lifetime Mortgage Schemes
This heading covers a variety of different mortgage schemes, all of which involve you borrowing money secured on the value of your home. Again, you can receive either a lump sum or a monthly income. You continue to own all of your home and the loan is repaid to the lender when your home is sold. You can choose whether to make interest payments or whether the interest is "rolled up" and paid back when the property is sold.
Worried About How You'll Pay For Care Home fees?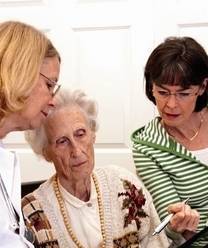 Worried about how you'll pay for Care Home fees?
Do Not sell your home before speaking to us first.
97% of our clients would recommend us to a friend
(Ongoing Client Survey)
The service I received couldn't have been better!
Mrs C, Chesterfield
The service I received was excellent.
Mrs B, Dronfield
I received excellent service for the purchase of my house
Mrs S,Sheffield
The receptionist staff on both days we visited your office were extremely friendly and the whole experience of dealing with Banner Jones was wonderful
T Howard
Frequently Asked Questions