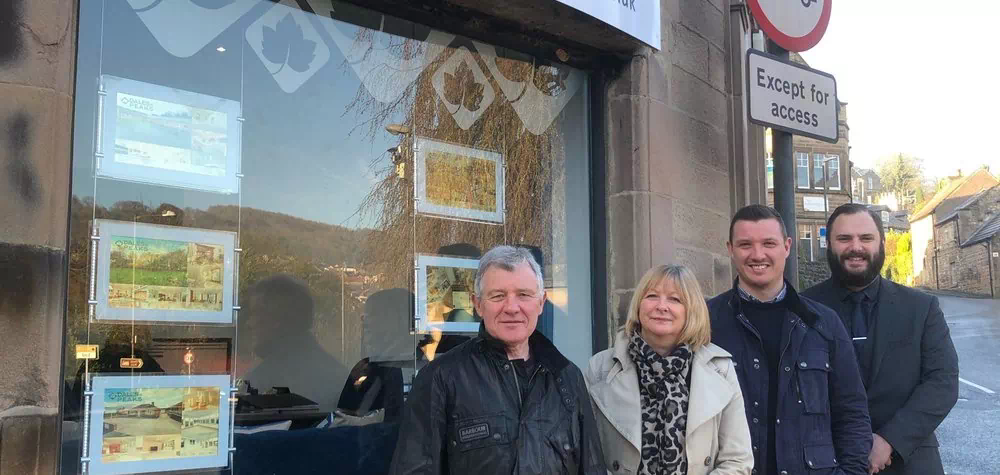 22-01-2020
Derbyshire estate agent acquires new site following acquisition announcement
Award-winning Chesterfield-based Estate Agent Dales & Peaks has announced it will be expanding to a new office location in Matlock in a bid to accommodate its expanding team following a period of rapid growth following the acquisition of rival firm TPS Estates in Matlock.
Established in 2006, the company offers 'no-fuss' professional services to those looking to buy, sell or rent residential properties. Dales & Peaks have expanded to grow their already substantial property portfolio and client base across Derbyshire, the East Midlands and beyond.
The new location will provide a large office space, situated in an attractive listed building sat at a prominent location at Dale Road in Matlock and will employ three staff members, with the view of growing this to five or six in 2020.
Banner Jones Solicitors advised Dale & Peaks – which has a well-established office on Old Brick Works Lane, Chesterfield – on the business acquisition and the lease agreement on the new office space.
Sarah Currey, Managing Director of Dales & Peaks, said: "We've had a hugely successful year, with considerable expansion through the hard work of the team. Having recently won Small Business of the Year 2019 at the Derbyshire Times Business Excellence Awards, ending the year with the acquisition of TPS Estates is a fantastic achievement, allowing us to further our offering across Derbyshire and the East Midlands, and to continue to provide high-quality services to our ever-expanding client base.
"We hope the acquisition and our new office space in Matlock will ensure that we are in a strong location to help people with their residential property needs in Matlock and surrounding areas, and to provide another great location out of which our growing, passionate team can operate.
"Banner Jones' advice throughout this period has been invaluable, and we are looking forward to what the future now holds!"
Ian Osborn, commercial solicitor, at Banner Jones added: "Dales & Peaks has had a great year which has seen them expand organically, as well as through the acquisition of TPS.
"We are delighted to have been instructed to support them with their commercial legal requirements during this time and look forward to assisting with their commercial offering in the future, as their operation continues to grow."
Banner Jones offers a full range of services to businesses, including commercial agreements, company formations, support with commercial property and more.