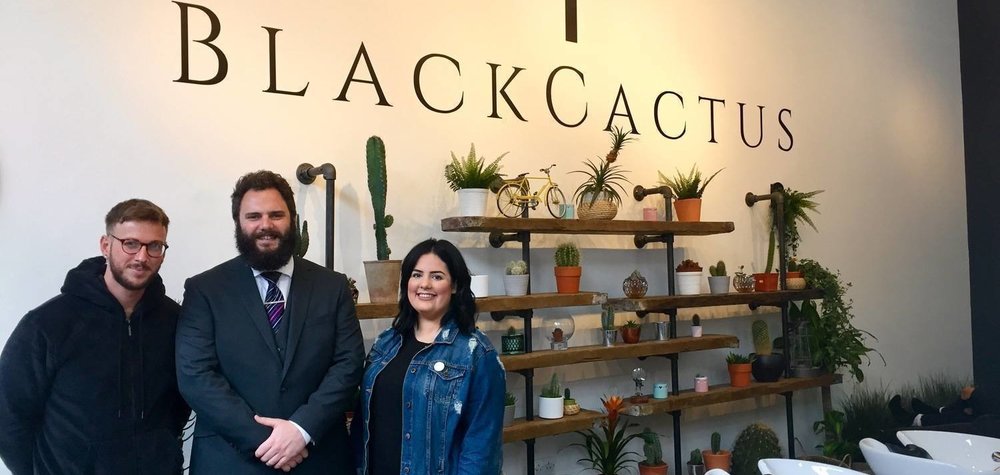 06-12-2017
TV experts launch unique Sheffield salon
Inspired by their work on shows such as E4's Body Fixers – where a team of top professionals from the world of hair, beauty, dentistry, make-up and non-surgical cosmetic procedures transform clients in the state-of-the-art Body Fixers clinic – the pair have set out to reinvent the traditional idea of a hair and beauty salon by incorporating body transformation into their menu of services.
The team at Black Cactus Limited were advised on the 10 year lease of their new flagship salon, located at the vibrant West One Plaza on Fitzwilliam Street, by leading business legal services law firm, Banner Jones Solicitors.
Lead hair stylist, Danny, adds: "My experience of Body Fixers really inspired me to bring a new generation of aesthetic services to Black Cactus to ensure that we are more than just a salon and that we provide a one-stop-shop for all our customers' needs.
"Clients are already embracing the opportunity to explore the diverse looks we can create here and the options that new treatments, techniques and technology have opened up to them, all in the comfort of our beautiful and welcoming new salon."
The new venture, which currently employs a team of xx, is undergoing a significant recruitment drive to attract the North's most innovative and cutting-edge hair and makeup talent with plans to increase headcount in the next 12 months as it expands to meet demand.
Already a leader in its field, Black Cactus was recently accredited in the annual British Hair and Makeup Awards and runs training masterclasses.
Adds Lead makeup artist Maxine who has also featured on the hugely popular show 'Don't Tell the Bride': "Our new premises perfectly reflect our brand and we can't thank Banner Jones enough for its support throughout the process as we turned our 'big idea' into a thriving new business.
"I love how fast moving our industry is and the fact that there are always new techniques, tools and trends to work with and it's fantastic to be able to make these available to a wider audience through the opening of the salon.
"Good makeup really enhances our natural beauty and I will always enjoy seeing a client's reaction to their finished look, especially when they've undergone a complete transformation. The smile on their face always reminds me why I will never tire of doing the job that I do."
Ashley Holland, co-director of Black Cactus Limited, the company behind the venture says: "It is fantastic to have secured such prominent commercial premises in a central part of Sheffield as we look to really establish the brand as a strong presence in the local market. Ian's clear advice and technical ability was fundamental to a successful negotiation in securing the lease."
Ian Osborn, commercial property specialist at Banner Jones Solicitors comments: "It has been fantastic to see Danny, Maxine and the team's vision for Black Cactus take shape and to have been instrumental in securing them the right premises under an appropriately designed commercial Lease that will underpin their success for many years to come."